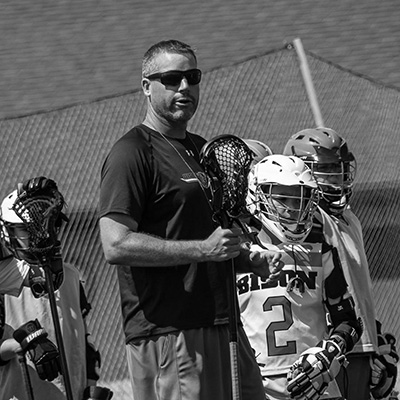 Colin Bathory
Colin Bathory completed his fourth season as Associate Head Coach at St. Joseph's Collegiate Institute. He has helped coach the Marauders to 4 straight undefeated Monsignor Martin seasons and tournament championships.
Prior to his stellar start at St. Joe's, Bathory led Haverford College as their head coach from 2009-16 and as their top assistant coach from 2005-09. During his tenure at Haverford, Bathory guided them to Centennial Conference Tournament titles and directed them to 5 NCAA Division III tournament appearances, the NCAA Quarterfinals, and Top 5 USILA national rankings. At Haverford, Bathory coached 21 players to NCAA USILA All-American, 13 players to USILA Scholar All-American, 52 players garnered All-Centennial Conference status, 71 players earned Centennial Conference Academic Honor Roll, and 1 player was selected as an NCAA Post Graduate Scholar. Bathory's Class of 2011 finished with a 47-19 cumulative mark and a place in program history as its winningest graduating class.
Prior to his return to Haverford, Bathory served as the head coach for two years at Plano East High School in Texas, where his team reached the semifinals and finals in the Texas state championship tournament. Before heading to Texas, Bathory was an assistant coach at Hampden-Sydney College (VA), where he helped lead the Tigers to a quarterfinal appearance in the NCAA Division III national tournament. He also coached the Auburn University (AL) program for the 2002 season and into the MCLA National Semi-Finals. Bathory was an assistant with The Shipley School (PA) for two seasons (2000 & 2001), helping them to their first ever PIAA State Tournament appearance.
Bathory earned his degree in History of Architecture from Haverford College in the Growth and Structure of the City program. On the playing field, as an attackman, midfielder, and face-off man, he was a four-year letter winner and two-time captain on the lacrosse team. He received the athletic department's Varsity Club Award following his senior year and earned the team's 'Swan' (senior leadership) and 'Gopher' (100+ ground balls) awards.